How to Make Eidolon Stronger | Aura Kingdom
To make your Eidolon stronger in the game of Aura Kingdom, there are only three ways. In this guide, we will go over these methods so that you can have the strongest Eidolon possible. Please note that this guide does not help you to get additional eidolons but rather how to make them stronger.
For more useful Aura Kingdom guides, please check out our Aura Kingdom Walkthrough guide list.
Eidolon Experience
Crest Stats Feeding Boost
Eidolon Accesories
Eidolon Evolution
Eidolon Experience
The only way to give your Eidolons experience points and level up is by feeding them various Eidolon experience crystals. These crystals have "sizes" which give different amount of experience points to your eidolons.
Below is a list of the various experience crystals and the amount of experience and level cap that they offer.
Crystalized Experience Dust: 1315 EXP level 25 Cap
Medium Experience Crystal: 1000 EXP Level 50 Cap
Large Experience Crystal: 15000 EXP No Cap
Pure Experience Crystal: 20000 EXP No Cap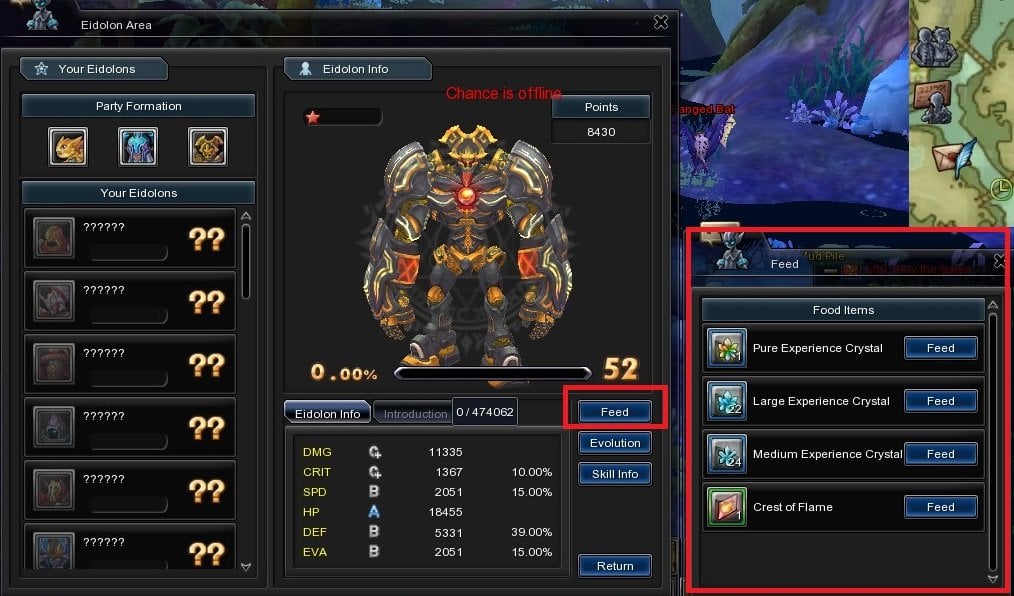 You can obtain the Eidolon experience crystals through various means including hunting open world monsters, open daily quest boxes, eidolon dialogues. In here we would like to emphasize on talking with your eidolons and connect them to the gaia whenever possible. This is always a great way to gather more Aura Kingdom secret stones needed to upgrade your other secret stones.
Crest Stats Feeding Boost
You can obtain various Crests as if you would with Aura Kingdom Eidolon experience crystals. These crests can boost various stats for your Eidolon. Below is a list of the various crests and the amount of stats that they can improve your Eidolons for.
Crest of Flame: DMG 3-6
Crest of Ice: DEF 1-3
Crest of Wind: SPD 1-3
Crest of Thunder: Crit 1-3
Symbol of Sand: HP 5-10
Symbol of Forest: Eva 1-3
Symbol of Darkness: DMG 1-4, Crit 1-2
Symbol of Light: HP 2-6, Def 1-2
Eidolon Crest Feeding Caps
On top of the different crests and symbols that you can feed to your Eidolon, those stats have a cap as well. These are the list of stats cap for your eidolon feedings.
DMG: 750
CRIT: 250
SPD: 250
HP: 1250
DEF: 250
EVA: 250
Eidolon Accessories
Each of your Eidolons can equip up to two accessories which can improve their stats even further. To get the Eidolon accessories, you will have to craft them after buying the recipes from the blacksmith in Navea. Note that the blacksmith is also important to help you to get other various crafted gears.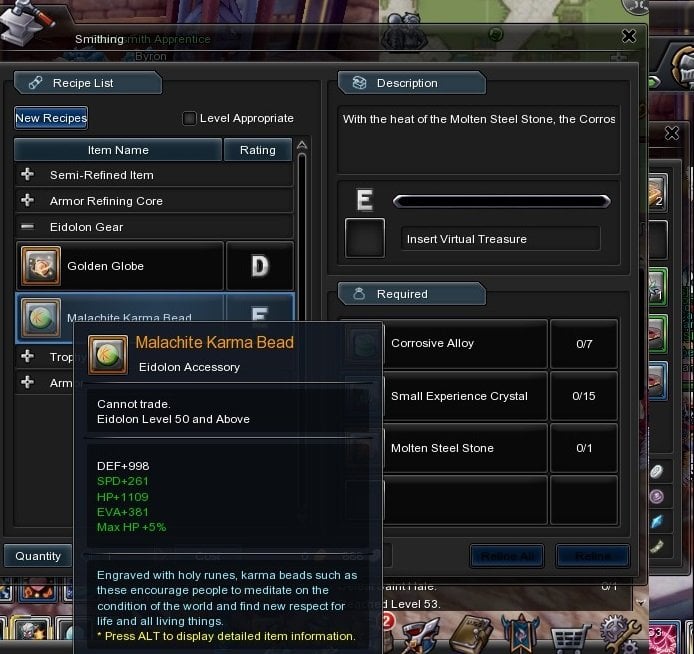 Level 40 Eidolon Accessories
The level 50 eidolon accessories recipes cost 6 gold to purchase:
Golden Globe (DEF, HP, SPED, EVA): 8 Lava Alloy, 10 Crystallized Experience Fragment, 1 Kyanite
Astral Orb (DEF, HP, +DMG, CRIT): 8 Magnetic Alloy, 10 Crystallized Experience Fragment, 2 Malachite
Chain of Rebirth (DEF, HP, DMG, +CRIT)
Level 50 Eidolon Accessories
The level 40 eidolon accessories recipes cost 24 gold to purchase:
Malachite Karma Bead (DEF, HP, SPED, EVA): 7 Corrosive Alloy, 15 Small Experience Crystal, 1 Molten Steel Stone
Sharp Fang (DEF, HP, +DMG, CRIT)
Runed Bloodgem (DEF, HP, DMG, +CRIT)
Level 60 Eidolon Accessories
The level 60 eidolon accessories recipes cost 72 gold to purchase:
Plumed Ring (DEF, HP, SPED, EVA)
Smiting Stone (DEF, HP, +DMG, CRIT)
License to Kill (DEF, HP, DMG, +CRIT)
Eidolon Evolution
Eidolons can be evolved into two stars when you have additional Eidolon keys, thus it is always important for you to get as many eidolon keys as possible so that you can evolve them later.