How to Get Eidolon Free | Aura Kingdom
Having a strong team of Eidolon is key to your success in the game of Aura Kingdom. In this complete guide, we will discuss every single way known to help you obtain all the Eidolon key fragment and key pieces for your Eidolon. You will learn everything needed on how to get more Eidolons for your Aura Kingdom game play.
Please note that in this Eidolon guide we will not discuss any Eidolon stats or skills. We will only be explaining and walking you through the easy ways on how to get Eidolon. The purpose of this Eidolon guide is to introduce you with the various ways of getting the Aura Kingdom new eidolons.
You can obtain Eidolon Keys or Eidolon through these methods, simply jump to the various part of the guide if you already know the certain ways how to get the Aura Kingdom Eidolons. It should be noted that for the majority of the time, you will be getting the Eidolon key fragments. Once you collect 10 of them, you can fuse them together with Hero Emblem for a full eidolon key.
We are working on more useful Eidolon Aura Kingdom guides, please check out the full list of Aura Kingdom guides.
Starter Eidolon
Quest Eidolon
Temple of Eidolon
Traveling Merchant Key Fragment Recipe Purchase
Guild Eidolon Bosses
Other World: Scandia
Other World: Level 60 Dungeons
Mini Boss Bounty
Eidolon Energy Crystal Fusion
Fame Quests Boxes
Eidolon Connect to Gaia
Cash Shop Essence Packs
Loyalty Shop Eidolon Key Fragment Exchange
Other New Eidolons
Starter Eidolon
When you first start the game, you can pick 1 out of 4 starter Eidolons. Note that you will not have them right away, however after a couple of levels and starter quests, you will summon your first Eidolon.
The starter Eidolons in Aura Kingdom are as followed:
Serif
Sylph
Grimm
Alessa
Quest Eidolons
When you reach level 25 and 40, you will obtain free eidolon key through questing. The Eidolon that you get will be in "key form" this means, that if you create more characters, you can effectively use the additional keys to evolve the Eidolon into higher forms. The Eidolon Evolution process typically requires a copy of the card plus some other items.
When you simply follow the main story quest, you will unlock two additional easy Eidolons.
Level 25 quest unlocks the Sigrun eidolon.
Level 40 quest unlocks the Gigas.
Temple of Eidolon
The Eidolon temple is another easy way on how to get Eidolons. The Temple of Eidolon is found in Crescent Hills. You can enter the temple of Eidolon up to 4 times per day. When you enter the temple, you will pick out a treasure box depending on your level. Note that you must use the item right away to obtain the summon stone. Or else the item disappears once you exit the dungeon.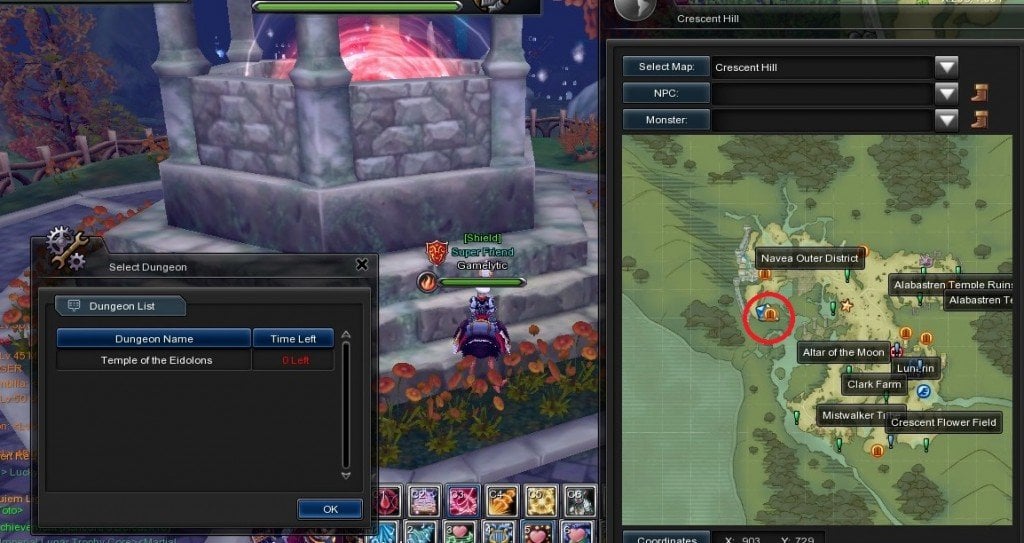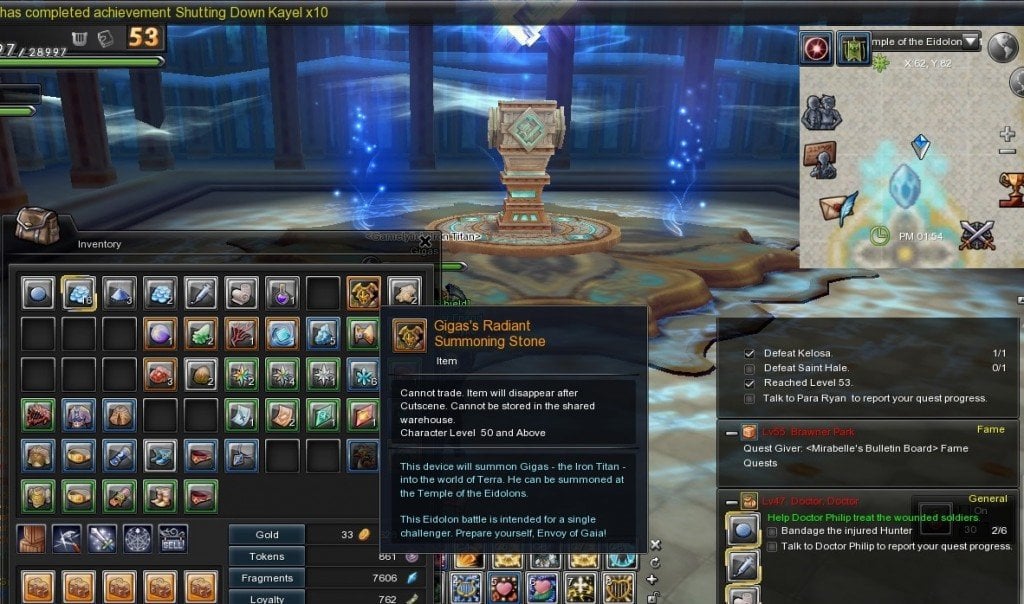 In addition, you get additional summon stones throughout your normal quests, you can use those summon stones in the Temple of Eidolon as well.
There are three types of chest that can be opened inside the Temple of Eidolon. Below are the list of the dungeon treasure chests and their corresponding rewards. Make sure that you are high enough level to open the correct boxes or else they would become wasted. Fighting the level that you can handle is key to getting Eidolons.
Level 35: Level 25 summoning stone.
Level 50: Level 40 summoning stone
Level 60: Level 50 Summoning Stone
Different from the other dungeons where you have The timer resets from when you enter other dungeons. The Aura Kingdom temple of Eidolon refreshes at the following system EST times:
6 AM
12 PM
6 PM
12 PM
Now while inside the Temple of Eidolon, make sure that you DO NOT accept or join another party, as joining the party will take you outside of the dungeon immediately.
Traveling Merchant Key Fragment Recipe Purchase
The traveling merchants on every map has some Eidolon ancient key fragment recipes to sell. These recipes require 30 ancient eidolon fragments in exchange for 1 key fragment. To find the traveling merchant location, simply use the NPC search with the map tool. Below is a screen shot for the traveling merchant on one of the map.
It should note that the best way to ancient eidolon fragments farming is to create multiple characters, then farm the daily quests with ancient eidolon fragment rewards. We would recommend having characters that can kill fast such as wizards or other high damage class to get through the quests faster. This way you can farm ancient eidolon fragment faster too.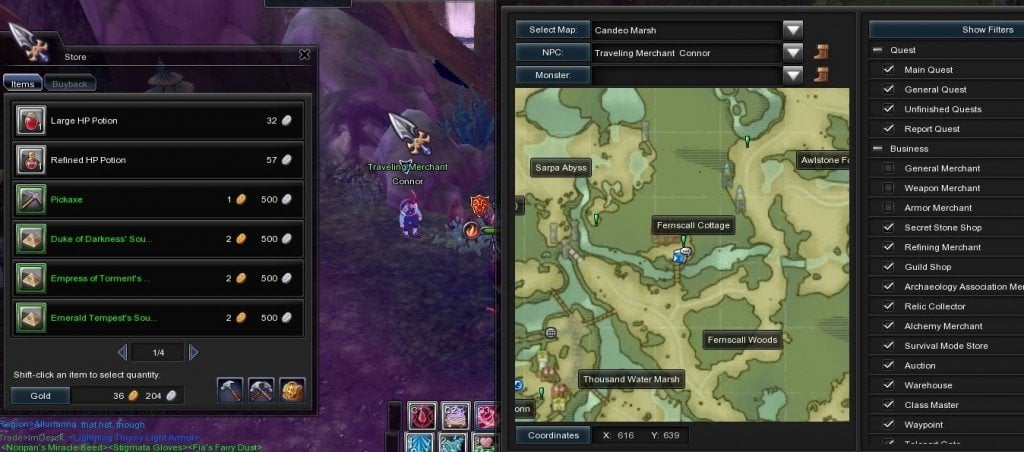 Each of the recipes costs 2 g and 500 silver. You can purchase the following recipes for these Eidolon key fragments:
Duke of Darkness' Soul Box = Eligo
Empress of Torment's Soul Box = Bel-Chandra
Emerald Tempest's Soul Box = Yarnaro
Trampling Thunder's Soul Box = Bahadur
Feline Emperor's Soul Box = Tigerius
Eidolon Guild Bosses
The guild bosses spawn different Eidolons at the following times. Make sure that you join a good guild with plenty of members that kill the Eidolon bosses easily and efficiently. These bosses have chances of dropping various key fragments and gold accessories. Below is the list of all the Guild Eidolon spawn times. The below listed Eidolon spawn times are in EASTERN Time. You can find the guild Eidolon boss inside the Guild Hall at the spawning times.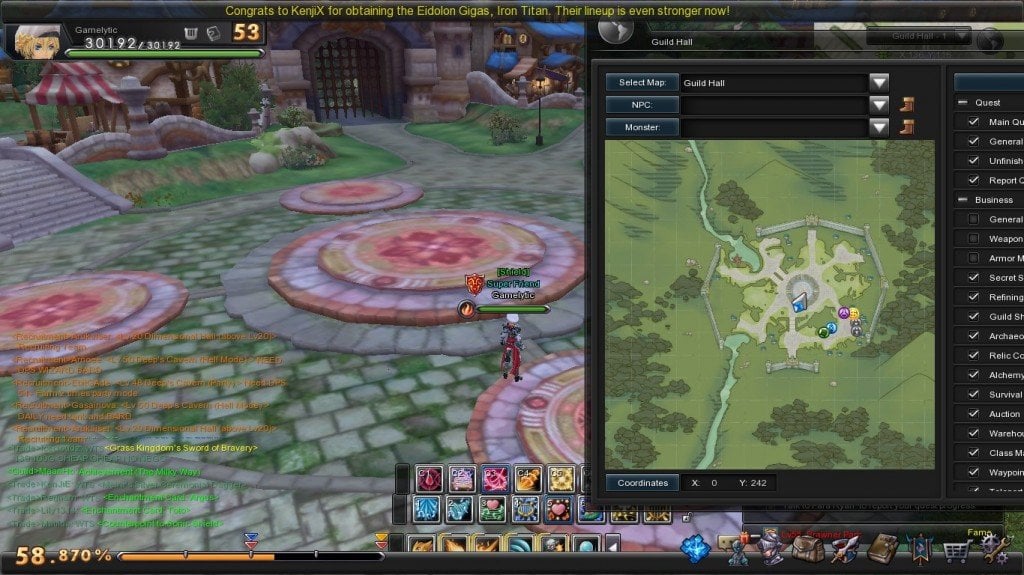 Monday
How to Get Kotonoha
12:00 Noon
5:00 PM
10:00 PM
Tuesday
How to Get Quelkulan
1 AM
3 PM
8 PM
How to Get Aelius
12 Noon
5:00 PM
10:00 PM
Wednesday
How to Get Bel-Chandra
12 Noon
5:00 PM
10:00 PM
Thursday
How to Get Yarnaros
1 AM
3 PM
8 PM
How to Get Gigas
12 Noon
5:00 PM
10:00 PM
Friday
How to Get Bahadur
1 AM
3 PM
8 PM
How to Get Sigrun
12 Noon
5:00 PM
10:00 PM
Saturday
How to Get Tigerius
1 AM
3 PM
8 PM
How to Get Uzuriel
12 Noon
5:00 PM
10:00 PM
Sunday
How to Get Vayu
1 AM
3 PM
8 PM
How to Get Eligos
12 Noon
5:00 PM
10:00 PM
Other World: Scandia Random Eidolon Spawn
When you reach level 50, a new dungeon will become available for you. This dungeon is called Other World: Scandia. In this dungeon, random Eidolon has chances of spawning inside the dungeon. You can kill those eidolon spawns for a chance of eidolon keys and fragments. The eidolon spawn is random inside Scandia so you may have multiple runs without any Eidolon spawns.
Mini Boss Bounty
On every map there are a couple of mini bosses that you can kill. Upon kill them you will almost always get some blue gears off the bat. The mini boss also leave you with some sort of urn or box containing the bodies. The mini bosses are shown with the monster icon on your mini map so you can tell whenever they are alive.
Turn in those bodies for bounties into the guards of each city. The guard is notated with the cage symbol on your mini map. Opening those bounty boxes has a chance of granting you additional eidolon key fragments at random. However the chance are pretty small.
Other World: Level 60 Dungeons
Some of the new advanced Eidolons such as Endora, can spawn at the final treasure chest of your Other World level 60+ dungeons in either Party or Hell setting. So make sure once you reach level 60, run those dungeons as often as you can to have a shot at obtaining more Eidolon keys.
Eidolon Energy Crystal Fusion
As you quest along and hunt monsters, you will obtain some Eidolon Energy Crystals in Aura Kingdom. When you have at least 75 of them, you can turn them into Eidolon summon devices.
You can either fuse 75 of them with 5 gold and 1 hero emblem for an open world summon device. Or you can exchange 100 of them into a summon device that can be used inside the guild hall. The guild one is exchanged with the Eidolon Researcher inside the guild hall.
Fame Quests
The chance of getting key fragments is pretty low. However the treasure box has chances of dropping Eidolon key fragments. So always do your daily fame bulletin quests.
Eidolon Connect to Gaia
Talk to your Eidolon often to collect "energy". Connect them whenever possible to get Eidolon experience crystals, upgrade secret stones, and occasionally you can obtain the key of the specific eidolon that you used for connection. For example, if you use Sigrun to connect, you only have slight chances to obtain a Sigrun key fragment.
Cash Shop Essence Packs
You can purchase the different essence packs with AP inside the cash shop under the Fortune bags category. These cash shop items have chances of dropping both eidolon key fragments and keys. However you should be warned that you can end up spending alot of real money without any return. Your best shot is to be patient and play the game slowly instead of gambling your money with the essence packs.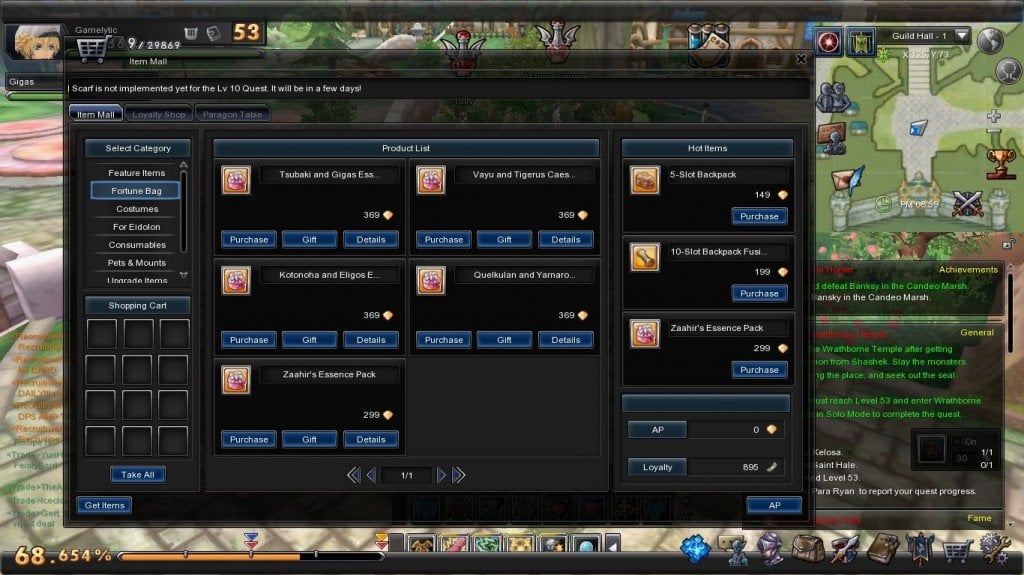 Loyalty Shop Exchange
Lastly, you can exchange your loyalty points for the various key fragments under the account limit category. You are limited to purchase 2 of the keys per week. Below is a list of all the eidolon key fragments that you can purchase with loyalty points. Please note that the free eidolons that you can exchange vary from time to time.
It depends on special server events and rewards, so if the keys are not offered in your Eidolon loyalty shop, be sure to check it often to see if they start offering the Eidolon keys again.
Aelius: 500 LP
Uzuriel: 500 LP
Eligo: 2600 LP
Maja: 2600 LP
Vayu: 2600 LP
Yarnaro: 2600 LP
Quelkulan: 2600 LP
Kotonoha: 2600 LP
Tigerius Caesar: 2600 LP
Bahadur: 2600 LP
Other New Eidolons
Lastly, it is important to note that most of the new eidolons not included in this list are offered only as cash shop items or rewards. So check those events regularly to see if you can get those cool new other eidolons. However, you will really have to take out your wallet and spend if you want to have a stand out new eidolon that no one else has.