Dragon Blaze Guild Battle Arena Guide
Guild Battle is another type of PvP that you can do to obtain free rubies in Dragon Blaze.
In Guild Battle, you will fight along side with one of your guild mate against another team from another guild. We will quickly go over how the Guild Battle works, and what you can do to boost your winning rate.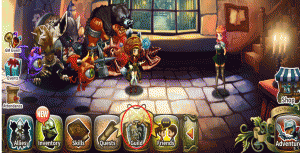 To attend Guild Battle, you actually need to be a part of a guild. Enter the Guild Battle screen via the Guild menu. You can bring in one of your Ally into the battle. We will discuss some valid strategy to help you decide later. In this screen, you can either tap on the white box to the right to actually invite a guild mate, or you can tap on the "invite" tab to send out a chatbox notice to everyone in the guild.
Guild Battle Match and Point Calculation
Every time when you fight in Guild Battle, the guild will gain some EXP and some GB ranking points. You will also win some personal ranking points. When you lose the battle, very little (like 1 or 2) ranking points are awarded.
However, if you are in a guild, you should always at least attend to one guild battle to be eligible for claiming the prizes.
The matching process can be tough sometimes since it can take a bit longer for you to be matched. And when you do, you may be matched with other players completely outside of your league, for example level 23 vs level 50's.
Preparing for Guild Battle
Since you can only bring 1 ally into battle, it is essential for you to bring the strongest one that you have. In general, the best ally to pick are the ones that can survive against two players, aka Tanks and Healers.
You can only party with a guildmate that is different than your class. Meaning you cannot have two real player Mages attending the Guild Battle together.
You should generally make sure you are at the highest level possible before grinding guild battles. Level yourself to the level cap of the game with strongest gears that you can afford. The level difference in Guild Battle is pretty easy to tell, since it is really 2 players vs 2 players setup.
Some good team setup combinations for Guild Battle setups include:
Priest + Any DPS + Tank Allies with Stun
Warrior + Any DPS + 2 Healer Allies
DPS + DPS + 1 Tank + 1 AoE Healer
You generally do not want to go with a full DPS team as you can get worn out if the opposing team has decent heals. Mage with the Sheep curse debuff can benefit greatly in Guild Battle as it can usually effectively disable a healer completely.
Guild Battle Schedule
Guild Battle or (GB) runs on a weekly basis like Arena or Labyrinth. The Guild Battle ranking resets every week on Monday at 12:10 a.m. after which you will be able to claim your rewards if you have won any.
You must claim the reward manually before next week's result or else you would lose them. The "Costume" that you get from winning is a random costume "mail" that you claim for a random reward.
Like other leaderboard rankings in Dragon Blaze, you take lower of the rank values, for example, a 3% lands you in the 5% reward tier.
You must manually claim the reward from both the "Guild" tab and the "Individual" tab to receive rubies from both of the categories.
The Guild Battle Reward is listed as followed:
It should be noted that the rubies are distributed to the members based on their ranking within the guild.
1: 100k EXP, Costume, 8k Rubies
2: 70k EXP, Costume, 7k Rubies
3: 50K EXP, Costume, 6k Rubies
4: 40K EXP, Costume, 5k Rubies
5: 30K EXP, Costume, 4k Rubies
1%: 20K EXP, Costume, 3.5k Rubies
5%: 15k EXP, Costume, 2.5k Rubies
10%: 10k EXP, 1k Rubies
20%: 8k EXP, 900 Rubies
30%: 7k EXP, 800 Rubies
40%: 5k EXP, 700 Rubies
50%: 4k EXP, 500 Rubies
60%: 3k EXP, 400 Rubies
70%: 2k EXP, 300 Rubies
80%: 1k EXP, 200 Rubies
90%: 1k EXP, 100 Rubies
100%: 1k EXP, 50 Rubies
777: 5k Rubies
7777: 5k Rubies
77777: 5k Rubies
The Guild Battle for Individual Reward is listed as followed:
1: 300 Rubies
10: 200 Rubies
50: 150 Rubies
1%: 100 Rubies
5%: 70 Rubies
10%: 40 Rubies
20%: 20 Rubies
30%: 9 Rubies
40%: 8 Rubies
50%: 7 Rubies
60%: 6 Rubies
70%: 5 Rubies
80%: 4 Rubies
90%: 3 Rubies
100%: 2 Rubies
777: 100 Rubies
7777: 100 Rubies
77777: 100 Rubies
10: 20 Rubies
Guild Battle Maps and Strategy Note
Each day of the week will have a different map which either limits or boost the effects of certain attacks or classes. Below is a quick list of the maps offered and how to deal with them.
Please note that we do not have the information for all the maps yet, they will be added as we progress through the week.
Sunday: Ordeals in Healing
You will experience a decrease in Heal.
For this map, bring only DPS allies to the party.
Monday: Ordeals in Attack
You will experience a decrease in ATK.
For this map, bring Tanks and Healer to the party.
Tuesday:
Wednesday:
Thursday:
Friday:
Saturday: Basic Fundamentals
You will experience a removal of buffs.