Sovrn Review – Payment Proof and Get More Money
Are you looking for a legit CPM advertisement network to serve ads on your website or blog? Sovrn might be a great ad network for you. In this Sovrn blog post review, we will share our experience and go over everything that you might want to learn about the network and how it might benefit you. Please note that this Sovrn review is written for small to medium sized publishers like myself.
Please note that the Sovrn link provided in this post is an affiliate link from Sovrn's Ambassador program. If you like this Sovrn ad network review, please sign up with our link! We will earn some of the money that you earn with the network ONLY if you make money. You do not earn any less money, Sovrn simply matches us the amount that you make in the first 30 days as an affiliate reward. So the more money that you end up making, the more earning that we will receive with this review.
Sovrn Payment Proof
Sovrn's payment term is Net 30 plus a few days depending on weekends and holidays. Sovrn does pay and does not scam you out of your hard earned money. We have provided a screenshot proof of Sovrn's electronic wire deposit into our bank at Wells Fargo. The close to 2K earning shown was from August Impressions and paid on 10/3.
Sovrn as a Simple RTB CPM network
Sovrn is a Real-Time Buying (RTB) CPM based network that let you serve ads. It works like an exchange where you first "announce" or make available of your existing ad inventory, and let the advertisers to change their bids to claim your ad inventories.
Your actual earnings will be based on the fill rate and the price RPM that you eventually get. You can "increase" your overall RPM by setting a higher floor, however your fill rate will begin to decrease as you tick up the pricing floor.
Fill rate is one of the biggest issue with CPM networks if you have tried with other networks. By setting a higher CPM Floor Price, you will see fill rate dropping quite fast. In addition, the CPM price is very seasonal depending on the niche. In my specific niche experience, our 4th Quarter holiday gift giving season CPM can well double or triple compared to January CPM rates.
In terms of actual CPM rates that you can get with the network, it all varies depending on your visitors and your site's niche. For our hobby niche sites our CPM is roughly $0.40 for USA traffic and $0.35 for others with a fill rate of 50%. You really have to test out the network yourself to see what type of CPM that you can get.
With adsense making less money during recent times, Sovrn acts as a pretty decent adsense alternative. For our setup, we used Sovrn as first tier ad server and adsense as a passback when Sovrn fails to fill the ad spot. Based on our tests and experience, the amount we earned with Sovrn is approximately 60%~100% vs adsense.
Sovrn's Reporting Dashboard
One thing that I like about the most with Sovrn is that the earnings and impressions are almost real time. I saw very little to no delay between served impressions and actual earnings.
Here's a screenshot of their earning dashboard, from here you can see that I have earned close to $10,000 for this year 2016.
Sovrn Site Approval Process
The site approval process of Sovrn can get a bit annoying based on my own experience. Like most of the networks, you will need to first request for your domain to be approved or whitelisted before you can start serving ad tags. If your site gets proper traffic and appear to earn OK with other networks but still get rejected by Sovrn. See if you can get contact with an account manager to explain to them what your site is about.
Below is a screen shot of the Sovrn's Site Approval page. You can see that I have several domains approved. They assigned sites based on their niche and category. I have also had a few denied domains disapproved because they have little US traffic.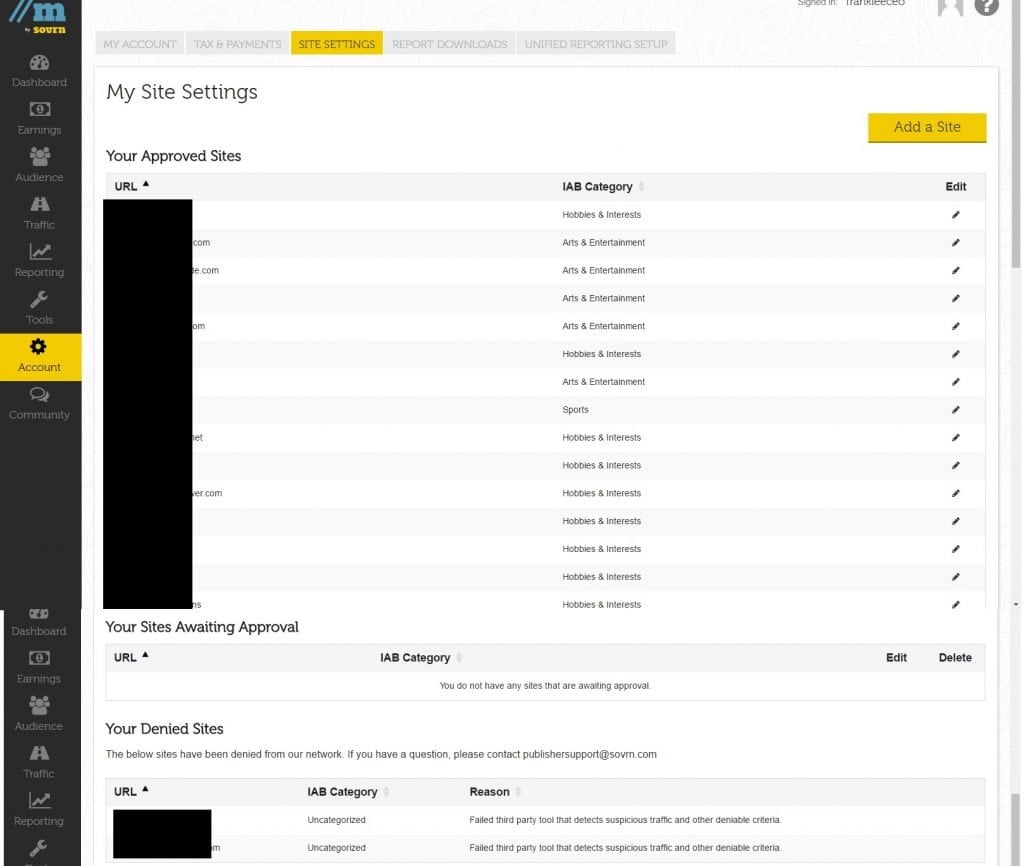 Sovrn Ad Tags Strategy
Sovrn supports quite a few ad sizes including the following:
160×600 Wide Skyscraper
300×250 Medium Rectangle
728×90 Leaderboard
300×600 Half Page
970×250 Billboard
250×250 Square
468×60 Banner
300×1050 Portrait
336×280 Large Rectangle
120×600 Skyscraper
768×640 Tablet Landscape
160×90 Vertical Medium
However, despite having all these sizes available. Our experience shows that the tried and true 300×250 is the best ad tag size for Sovrn. It generally has the highest fill rate with RPM. For example, a double stacked 300 x 250 will almost always perform better versus a 300 x 600 Half page.
It should be noted that Sovrn does have native ads such as mobile anchor that uses the "onscroll" technology. But you will need to specific ask for them with your account manager in Sovrn for them to produce and activate the ad tag. They do not offer those ad units with the self-service interface.
Sovrn Fill Rate Strategy
Below are some guidelines on how to get the best out of fill rates at Sovrn. We were fortunate enough to have an welcome account manager that guided us the process, and here are the basic steps that you can do yourself.
First of when you first join the ad network exchange, do not start by setting the fill rate sky high or at your usual adsense or other tag RPM's. Start the network by setting no CPM floor for roughly 1 week after you start serving the ad tags. Consider this as an introductory stage where you let the exchange understand all of the inventory available. After 1 week you can start tuning up the CPM floors and monitor your fill rate at the same time.
Ideally the best place to set yourself CPM floor is until the point where you reach about 50~60% fill rate. At this level you avoid serving the lowest tier ads while still preserving a decent floor price. In our experience, we have a CPM floor ranging from $0.15 to $0.75.
Lastly, remember to setup passback tags so that the remaining impression gets bumped or waterfalled to other networks like Adsense!
Other Sovrn Related Terms that You Might Hear
Sovrn Meridian: This feature is just a name of their analytics software.
Sovrn Header Bidding: Header Bidding is basically a new tech that could benefit if you use more than 3~4 different networks for a bigger network. Most smaller publishers probably won't make more money out of this.
Sovrn Video: Because we do not serve videos with our sites, we do not know how well they perform.
Sovrn OnScroll: The OnScroll units is a "special" unit that you need to request with your Sovrn account manager if you have one. It's a viewability unit where it only load the ads when the unit comes into view. In addition it also gives advertisers more information about the unit. Our initial experience with the unit is mixed where we do not see any increase or decrease from the earnings, so we currently only serve 1 ad tag with Onscroll sticky unit as a benchmark against regular ad tags in the future.
One More Difference vs Adsense: If you are a long time adsense publisher you know that the $ that you receive is usually reduced based on either smart pricing in real time or Invalid Traffic at the end of the month. With Sovrn, what you see on the earning dashboard report is what you will receive. I personally find this helpful because there is much less chance of nasty end of month earning reductions compared to Google's adsense.