Introduction
Versus: Sail Regatta
Versus: Japanese Garden
Versus: Airport Alley
Versus: Beach Shop
Ep1 Seaside Harbor
Ep1 City Hall
Ep1 Mayor's Office
Ep1 Old Lighthouse
Ep2 Surf Woody
Ep2 Sandy Beach
Ep2 Beach Blanket
Ep2 Tide Pool
Ep3 Havana Street
Ep3 Cathedral
Ep3 Cigar Bar
Ep3 Castillo
Ep4 Train Depo
Ep4 Main Street
Ep4 Antique Shop
Ep4 Malt Shop
Introduction
We have compiled a complete a compilation of grid tools to help you search for all the items for all the maps in Seaside Hideaway. If you are stuck with any of the stages, please feel free to use these tables to help you search for the items faster. All the pictures can be clicked on and enlarged. Either find the item of interest from the table underneath the picture or stage, or type in keywords to help you look for the item.
Please let us know if any of the entries are incorrect. Thank you!
Versus: Sail Regatta
Versus maps in Seaside Hideaway is an important game for you to earn additional experience and coins in the game. In this guide, we will go over the different Seaside Hideaway versus maps. Use this grid map guide to help you find the different hidden items in the game. Please let us know if we have missed anything! Also share these photos and Seaside Hideaway item locations with your Facebook and online game friensd! Remember to link back to us and check out the rest of our Seaside Hideaway game guides.
| | |
| --- | --- |
| Air Balloon | E1 |
| Anchor | C2 |
| Anteater | A7 |
| Antlers | C5 |
| Arrow | F2 |
| Banana | G6 |
| Beach Ball | B6 |
| Biplane | B1 |
| Boat Wheel | F5 |
| Bottle | H7 |
| Burger | E5 |
| Butterfly | A5 |
| Canoe | A4 |
| Crab | D7 |
| Crown | H3 |
| Depth Buoy | D5 |
| Diving Helmet | A5 |
| Feather | G7 |
| Fish Crochet | D5 |
| Fishing Rod | E5 |
| Fishnet | B4 |
| Flag | C2 |
| Frog | A5 |
| Gold Heart | G7 |
| Grapes | G6 |
| Gym Shoes | C5 |
| Hut | A3 |
| Kiss | C5 |
| Kite | D1 |
| Lantern | H7 |
| Lifesaver | C4 |
| Magic Hat | C1 |
| Mandolin | C6 |
| Maoi Statue | H3 |
| Moon | C3 |
| Necklace | D6 |
| Newspaper | D7 |
| Oar | A4 |
| Octopus | H4 |
| Orange | H7 |
| Palm Tree | C2 |
| Paw Print | A7 |
| Pie | F5 |
| Pie | F5 |
| Pineapple | F7 |
| Propeller | C3 |
| Purse | C6 |
| Queen | F7 |
| Rocket | G1 |
| Rope Ladder | C3 |
| Rose | D4 |
| Sand Castle | E7 |
| Scarf | B4 |
| Seagull | H1 |
| Seahorse | F3 |
| Seal | A4 |
| Shell | B7 |
| Snake | E3 |
| Socks | F6 |
| Sphinx | B3 |
| Star Fish | C7 |
| Sun | A1 |
| Treasure Chest | A5 |
| Treble Clef | G4 |
| Tropical Drink | F7 |
| Turtle | A6 |
| Umbrella | H4 |
| Watermelon | H6 |
| Wind Turbine | A2 |
| Wood Sign | H4 |
Versus: Japanese Garden
| | |
| --- | --- |
| 4 Leaf Clover | B7 |
| Acorn | H5 |
| Apple | E5 |
| Arrows | B2 |
| Ax | E3 |
| Beetle | F6 |
| Berries | A1 |
| Bird Bath | D2 |
| Bird House | G2 |
| Birdfeeder | D2 |
| Bison | F2 |
| Black Bird | G1 |
| Black Swan | H3 |
| Bluebird | H2 |
| Boat | D4 |
| Bonzai | D3 |
| Bow | H1 |
| Brick | D6 |
| Broccoli | B7 |
| Bucket | F2 |
| Buddha | B2 |
| Butterfly | F7 |
| Carnation | D6 |
| Chicken | A2 |
| Cow | C1 |
| Crane | F1 |
| Crank | B5 |
| Daisies | F2 |
| Dragon | C1 |
| Dragonfly | C2 |
| Duck | D4 |
| Flamingo | G1 |
| Flower Pot | F5 |
| Flute | G2 |
| Frog | E5 |
| Goose | B1 |
| Grasshopper | D6 |
| Hatchet | D5 |
| Hose | D5 |
| Hummingbird | A5 |
| Japanese Doll | H2 |
| Kite | E1 |
| Ladybug | F7 |
| Light String | G3 |
| Lighthouse | F1 |
| Lilly Pad | E5 |
| Lily | A5 |
| Maple Leaf | G6 |
| Melon | C4 |
| Mouse | E6 |
| Nest | B4 |
| Oar | C4 |
| Panda | B1 |
| Paper Boat | A4 |
| Paper Fan | F5 |
| Paper Lantern | E1 |
| Pears | H6 |
| Pelican | F1 |
| Pinecone | C6 |
| Poison Ivy | H6 |
| Rabbit | H5 |
| Rake | A3 |
| Rose | A1 |
| Shovel | A3 |
| Sparrow | E2 |
| Squirrel | F4 |
| Sunrising | H3 |
| Sushi rolls | H4 |
| Sword | C5 |
| Tea Kettle | E4 |
| Tea set | F4 |
| Tiki Torch | H3 |
| Toadstool | H7 |
| Toast | B3 |
| Tortoise Shell | C5 |
| Trowel | A6 |
| Windchimes | B5 |
Versus: Airport Alley
| | |
| --- | --- |
| Aluminum Bat | F5 |
| Binoculars | G6 |
| Biplane | B2 |
| Butter Knife | G1 |
| Calculator | B3 |
| Captains Hat | A5 |
| Car Battery | G7 |
| Cardinal | C4 |
| CB Radio | A6 |
| Ceiling Fan | C2 |
| Cherries | B5 |
| Clothes Pin | E4 |
| Cricket Bat | D4 |
| Curtains | E2 |
| Door Latch | G4 |
| Drill | D7 |
| Duct Tape | H4 |
| Fire Extinguisher | E3 |
| Flashlight | D7 |
| Flute | F2 |
| Gas Can | G6 |
| Glass Eye | F5 |
| Gloves | C7 |
| Goggles | F5 |
| Golf Tee | C4 |
| Grate | H7 |
| Guitar Pick | D3 |
| Hammer | C7 |
| Hard Hat | D6 |
| Headset | B4 |
| Helicopter | A3 |
| Hockey Puck | B2 |
| Hotel Bell | G4 |
| Ice Cream | H4 |
| Key | H4 |
| Lion | F1 |
| Luggage | D4 |
| Lunch Pail | F7 |
| Microphone | G5 |
| No Smoking | H2 |
| Number 88 | A5 |
| Oil Slick | D6 |
| Paint Brush | H7 |
| Paint Can | H7 |
| paper Planes | H3 |
| Parachuter | G1 |
| Pen | E5 |
| Ping Pong Paddle | C6 |
| Pinup | F3 |
| Plug | H7 |
| Pool Rack | D3 |
| Pyramid | E4 |
| Ruler | A1 |
| Shark Fin | G3 |
| Spark Plug | G7 |
| Spatula | G3 |
| Stained Glass | F2 |
| sunglasses | D7 |
| Thimble | D4 |
| Toolbox | C7 |
| Utility Knife | F7 |
| Walkie Talkie | G6 |
| Water Cooler | E3 |
| Whitewall Tire | H6 |
| Wind Sock | H1 |
| Wrench | A7 |
| Yo Yo | B6 |
| Zipper | G3 |
| Mop | E5 |
| This Side Up | E3 |
| Spear | B5 |
| Traffic Cone | D5 |
Versus: Beach Shop
| | |
| --- | --- |
| Acorn | B7 |
| Balloon Animal | E4 |
| Battery Fan | C4 |
| Beach Ball | H5 |
| Beachy | G6 |
| Boot | A4 |
| Bowling Pin | B3 |
| Cactus | D5 |
| Carrot | H6 |
| Ceramic Pot | C6 |
| Cherry | B6 |
| Chicken | G4 |
| Cog | C7 |
| Cow | E1 |
| Cupcake | D3 |
| Dragonfly | C2 |
| Easter Egg | B3 |
| Egg | C2 |
| Flashlight | C6 |
| Frisbee | G5 |
| Fuzzy Dice | F3 |
| Giraffe | C3 |
| Golf Ball | C4 |
| Key | G1 |
| Lilac | C6 |
| Lobster | C5 |
| Magic 8 Ball | F6 |
| Magnifying Glass | E6 |
| Megaphone | B1 |
| Necklace | H1 |
| Number 87 | H5 |
| Number 9 | B6 |
| Owl | F3 |
| Peacock Quill | H3 |
| Pear | F2 |
| Pig | D5 |
| Pocket Watch | F1 |
| Popsicle | H4 |
| Purse | E1 |
| Question Mark | A1 |
| Rabbit | D5 |
| Robot | E3 |
| Rose | B6 |
| Rubber Band Ball | D4 |
| Rubber Stamp | E5 |
| Sandals | G3 |
| Shoe Strap | A2 |
| Snorkel | H7 |
| Soap On A Rope | B2 |
| Spider | A7 |
| Star | F3 |
| Strawberry | A7 |
| Sunglasses | H3 |
| Tangerine | F1 |
| Toy Blocks | F5 |
| Trap Door | D7 |
| Tree | E1 |
| Troll | D4 |
| Trophy | D2 |
| Turtle | G6 |
| Twine | E5 |
| Umbrella | E6 |
| Wine Glass | F4 |
| Wrist Watch | A3 |
Ep1 Seaside Harbor
| | |
| --- | --- |
| Anchor | E2 |
| Balloon | A1 |
| Bell | H5 |
| Broccoli | E1 |
| Canteen | G7 |
| Cat | A4 |
| Chest | B6 |
| Chrysanthemum | E5 |
| Clamshell | A3 |
| Clock | G1 |
| Column | D3 |
| Compass | A7 |
| Crab | A6 |
| Diving Mask | G6 |
| Dog | H3 |
| Dolphine | F5 |
| Eagle | A2 |
| Easel | B5 |
| Envelope | H5 |
| Extinguisher | H4 |
| Fan | E2 |
| Fish Hat | F5 |
| Fishing Basket | G7 |
| Fishing Rod | F6 |
| Flag | C1 |
| Flashlight | F5 |
| Flip Flops | E7 |
| Flippers | H6 |
| Handbag | C4 |
| Hang Glider | B1 |
| Horn | C4 |
| Ladder | C3 |
| Lemon | F2 |
| Letter C | F1 |
| Life Jacket | G4 |
| Lipstick | D2 |
| Match Stick | B1 |
| Megaphone | G4 |
| Motorcycle | E3 |
| Oars | B4 |
| Octopus | A5 |
| Oyster | B7 |
| Palm Tree | B2 |
| Paper Lanterns | G3 |
| Paw Print | C7 |
| Pelican | B3 |
| Pineapple | D4 |
| Pipe | H7 |
| Playing Card | H2 |
| Rolled Rope | B7 |
| Seagull | F1 |
| Seahorse | H2 |
| Shark Fin | G6 |
| Sponge | H5 |
| Star | B5 |
| Starfish | H6 |
| Swordfish | G2 |
| Truck | A3 |
| Tulip Shell | A7 |
| Turtle | D6 |
| Umbrella | E5 |
| Watermelon | D5 |
| Welcome | E4 |
| Wrench | B6 |
Ep1 City Hall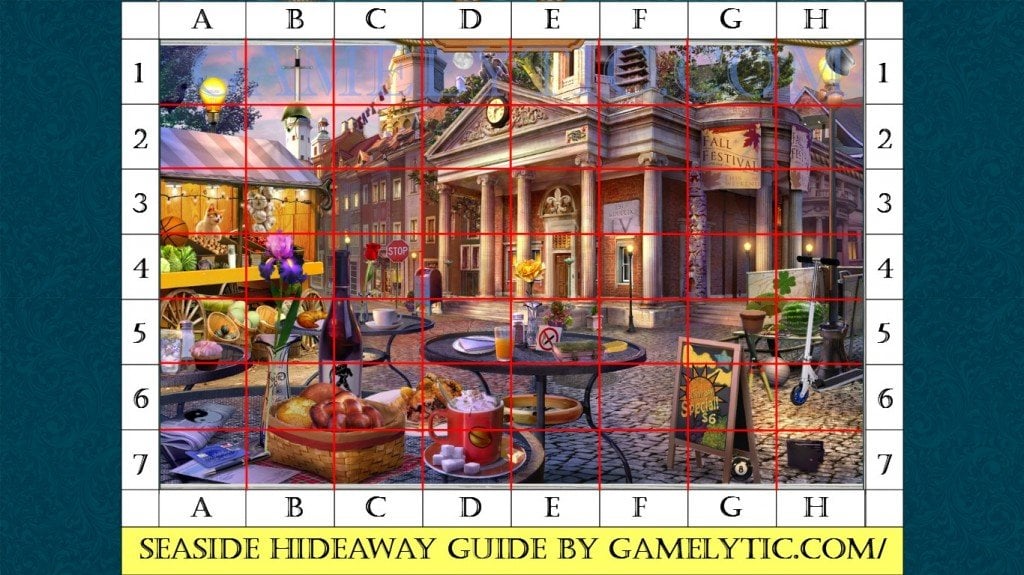 | | |
| --- | --- |
| 8 Ball | G7 |
| Acorn | H1 |
| Aquarius | C6 |
| Army Helmet | B2 |
| Basketball | A3 |
| Bell | F1 |
| Bill Booklet | A7 |
| Book | E5 |
| Broccoli | E1 |
| Butter Packet | D7 |
| Cane | B3 |
| Cat | A3 |
| Challah Bread | C6 |
| Clothes Line | C2 |
| Clover | H4 |
| Coffee Bean | D7 |
| Credit Card | A7 |
| Croissant | B5 |
| Crow | A1 |
| Dinner Roll | B6 |
| Fork | C6 |
| Gargoyle | D1 |
| Garlic | B3 |
| IV | F3 |
| Japanese Fan | G5 |
| Lemon Slice | F5 |
| Light Bulb | A1 |
| Moon | D1 |
| Napkin | D5 |
| No Smoking | E5 |
| Orange Juice | D5 |
| Pie | C6 |
| Plaid Cloth | C7 |
| Postal Box | D4 |
| Queen of Hearts | E2 |
| Receipt | A7 |
| Rock Piece | H5 |
| Rope | H2 |
| Salt | A5 |
| Scooter | H6 |
| Stop Sign | C4 |
| String of Lights | A3 |
| Sugarcubes | D7 |
| Sun | G6 |
| Sword | B1 |
| Tea Cup | C5 |
| Tennis Balls | A5 |
| Toast | H1 |
| Top Hat | H1 |
| Totem Pole | G3 |
| Trowel | G5 |
| Volleyball | G6 |
| Waffle | E4 |
| Wallet | H7 |
| Water Glass | A5 |
| Watermelon | H5 |
| Yellow Clouds | G5 |
| Yin Yang | A6 |
Ep1 Mayor's Office
| | |
| --- | --- |
| Academic Letters | A3 |
| Apple | H6 |
| Ball Crackers | A3 |
| Barometer | C4 |
| Baseball | G4 |
| Blue ribbon | A3 |
| Bow | D1 |
| Cane | C4 |
| Carnation | D3 |
| Caterpillar | B5 |
| China Doll | A4 |
| Cigar | B5 |
| Cigar Box | A5 |
| Coiled Rope | C5 |
| Dictionary | G4 |
| Envelopes | H6 |
| Gloves | D6 |
| Headphones | G4 |
| Horse | G7 |
| Inkwell | G6 |
| Jacket | E4 |
| Lamp | D3 |
| Leaf | D4 |
| Lighthouse | B1 |
| Map | B4 |
| Marble Jar | B3 |
| Matryoshka doll | A4 |
| Model Boat | A2 |
| Necklace | A1 |
| Outlet | G5 |
| Passport | H6 |
| Peacock Feather | B6 |
| Plate | F1 |
| Postage Stamp | G5 |
| Potpourri | H4 |
| Purse | G5 |
| Quill | G5 |
| Rubber Duckie | G2 |
| Rubber Stamp | H4 |
| Ruler | D4 |
| Seal | H3 |
| Shell | D5 |
| Ship Art | A2 |
| Ski Pole | C3 |
| Straight Rope | F7 |
| Sun Hat | E4 |
| Tassel | C2 |
| Teddy Bear | A4 |
| Telephone | F3 |
| Trapdoor | C7 |
| Turtle | E4 |
| Typewirter | G4 |
| Umbrella | C4 |
| Watch | A2 |
| Whale | H2 |
| Wheel | B2 |
| Wine Bottle | D5 |
Ep1 Old Lighthouse
| | |
| --- | --- |
| Acorn | G7 |
| Anchor | D6 |
| Animal Tracks | E6 |
| Antenna | B2 |
| Apples | H5 |
| Axe | H5 |
| Belt | D3 |
| Bike Pump | G4 |
| Biplane | G3 |
| Birdhouse | H1 |
| Bowling Trophy | E4 |
| Butterfly | B3 |
| Carpet | D4 |
| Cat | F5 |
| Coral | C5 |
| Dipper | A1 |
| Fireworks | F2 |
| Flute | A6 |
| Hammer | A7 |
| Hat | H4 |
| Hoe | F3 |
| Horseshoe | E7 |
| Hummingbird | G2 |
| Lantern | D1 |
| Lizzard | B7 |
| Log | H5 |
| Mailbox | H4 |
| Maple Leaf | G7 |
| Metal Pail | D5 |
| Milk Can | H7 |
| Mug | B3 |
| Nautical Star | F4 |
| Ornament | H1 |
| Rabbit | H6 |
| Rake | E5 |
| Reel to Reel | E4 |
| Saddle | G4 |
| Scythe | D4 |
| Seagull | A2 |
| Shell | B6 |
| Spyglass | B5 |
| Squirrel | C6 |
| Starfish | A3 |
| Sun | H3 |
| Tortoise | B6 |
| Weathervane | A2 |
| Whale | E4 |
| Wind Chimes | H2 |
| Wood Crack | H7 |
Ep2 Surf Woody
| | |
| --- | --- |
| Barbeque Fork | G6 |
| Beach Grass | A7 |
| Binoculars | A1 |
| Blanket | A1 |
| Blue Crab | B7 |
| Boogie Board | H4 |
| Butterfly | H1 |
| Button | H2 |
| Cheese | G3 |
| Conch Shell | F7 |
| Country Code | A5 |
| Cribbage Board | B3 |
| Croissant | H4 |
| Dog | B3 |
| Dogtag | G5 |
| Drain | E5 (smaller) |
| Fishbone | G3 |
| Folded Umbrella | B2 |
| Frisbee | B1 |
| Grill | B1 |
| Hacky Sack | B2 |
| Happy Face | H4 |
| Hawaiian Dancer | C3 |
| Hibiscus | F3 |
| Ice Cream | B5 |
| Keychain | G1 |
| Kite | E2 |
| Manhole | G6 |
| Meter | F4 |
| Okay | A3 |
| Open Umbrella | F3 |
| Parasail | C1 |
| Parking Ticket | D3 |
| Peace Symbol | G2 |
| Pigeon | G5 |
| Question Mark | D1 |
| Record | C4 |
| Road Maps | D5 |
| Sailboat | H3 |
| Sandals | C5 |
| Sea Glass | D7 |
| Shark | H1 |
| Shell Necklace | F5 |
| Shoes | D6 |
| Shuttlecock | B6 |
| Slushy | A5 |
| Snorkel | D6 |
| Spare Change | H7 |
| Speaker | E5 (larger) |
| Sunglasses | D4 |
| Surfer | A4 |
| Swim Cap | F5 |
| Tanning Oil | G7 |
| Tassel | G5 |
| UFO | B6 |
| Valve Handle | E4 |
| Volleyball | C7 |
| Wallet | A6 |
| Wave | A5 |
| Wet Suit | F4 |
| Wrench | F7 |
| Yin Yang | G3 |
Ep2 Sandy Beach
| | |
| --- | --- |
| Arrow | F3 |
| Bananas | F3 |
| Beachball | E6 |
| Bleach Bottle | E5 |
| Bobber | E4 |
| Bowling Pin | E5 |
| Cheese Wedge | H2 |
| Cherries | A4 |
| Coin Purse | G7 |
| Cotton Balls | H1 |
| Crab | F1 |
| Danger | H4 |
| Dolphine | A4 |
| Dreidel | E5 |
| Drink | F2 |
| Dumbell | H7 |
| Fist Aid Kit | F7 |
| Folded Umbrella | G4 |
| Hamburger | F2 |
| Hawaiian Flower | E1 |
| Jolly Roger Flag | A1 |
| Life Preserver | H4 |
| Lightning | B2 |
| Lime | D3 |
| Loose Nail | D1 |
| Lunch Pail | C6 |
| Lure | F4 |
| Moon | F2 |
| On Duty | F2 |
| Open Umbrella | H3 |
| Orange | D3 |
| Palm Tree | D4 |
| Pearl | B1 |
| Pelican | C2 |
| Pencil | D2 |
| Piping Bag | E6 |
| Pool cue | B2 |
| Popsicle | H7 |
| Rat | F6 |
| Recycle | E2 |
| Rescue Float | C5 |
| Rum Bottle | F7 |
| Sandal | H6 |
| Seagull Tracks | B7 |
| Shark Jaw | G6 |
| Shoes | E7 |
| Snorkel | F4 |
| Starfish | E3 |
| Sunglasses | G7 |
| Surfboard | H5 |
| Thermos | G6 |
| Tube Socks | F6 |
| Water Tube | H5 |
| Wave | F4 |
| Whistle | F7 |
| Yard Stick | A5 |
Ep2 Beach Blanket
Ep2 Tide Pool
| | |
| --- | --- |
| Ballons | F1 |
| Bottle | C6 |
| Buoys | D3 |
| Bowling Ball | C5 |
| Broccoli | H7 |
| Bucket | A7 |
| Bush | E2 |
| Camera | H5 |
| Carabiner | C7 |
| Catfish | D5 |
| Chocolate Bunny | D1 |
| Clam | C5 |
| Climber | B1 |
| Cogs | F5 |
| Crab | D6 |
| crayon | D2 |
| Diamond | F6 |
| Dingy | F2 |
| Diving Flag | E1 |
| Diving Helmet | B5 |
| Dreidel | B7 |
| Dress Shoe | A5 |
| Ducks | A2 |
| Earrings | D7 |
| Feather | F4 |
| Fish Hook | D3 |
| Glock | A6 |
| Handprint | B2 |
| Kayak | E1 |
| Key | B7 |
| Knight Armor | A2 |
| Lantern | A6 |
| Life Preserver | E3 |
| Lighter | B2 |
| Lighthouse | H1 |
| Lobster | B5 |
| Marker | C1 |
| Moai Statue | A1 |
| Palm Tree | G1 |
| Pinball | H5 |
| Polka Dot Fish | G5 |
| Quarter | A5 |
| Rowboat | H2 |
| Sandcastle | A1 |
| Sea Otter | B3 |
| Seagull | G1 |
| Seahorse | C4 |
| Shark | C5 |
| Starfish | G7 |
| Sunflower | E1 |
| Volkswagon | F1 |
| Wedding Band | B7 |
| Windsurfer | H2 |
| Zebra | F4 |
Ep3 Havana Street
| | |
| --- | --- |
| Asparagus | G6 |
| Bag | F6 |
| Ball of String | D6 |
| Ballet Shoes | A2 |
| Banana Peel | B7 |
| Bandage | C6 |
| Baseball | A7 |
| Bell | G4 |
| Bike | B5 |
| Blackbird | E1 |
| Blimp | B1 |
| Bow Tie | C4 |
| Broom | G6 |
| Butterfly | A7 |
| Carrot | F7 |
| Cat | F1 |
| Cheese | H7 |
| Club | G2 |
| Corn | G7 |
| Cutting Board | H6 |
| Dreamcatcher | H4 |
| Dress | A2 |
| Drum | F5 |
| Electric Fan | E4 |
| Envelope | G4 |
| Fire Hydrant | E6 |
| Fire Poker | C7 |
| Fish | H6 |
| Fish Basket | G6 |
| Flower Necklace | F4 |
| French Bread | F7 |
| Garlic | H3 |
| Grapes | G7 |
| Guitar | E5 |
| Hammer | |
| Hand Fan | C5 |
| Hat | E1 |
| Kettle | E7 |
| Ladder | D4 |
| Lion | E4 |
| Mermaid | C6 |
| No Entry | C4 |
| Onion | G7 |
| Paw Print | C5 |
| Photographs | F2 |
| Pineapple | H7 |
| Plane | A2 |
| Pretzel | H7 |
| Pumpkin | G6 |
| Rope | D7 |
| Shell | C4 |
| Soccer Ball | B6 |
| Squirrel | A3 |
| Street Cone | C6 |
| Street Sign | C3 |
| Sun | A5 |
| Thermometer | F7 |
| Traffic Cone | C6 |
| Tread Marks | C7 |
| Trumpet | E6 |
| Turtle | E7 |
| Umbrella Stand | G5 |
| Wagon Wheel | B6 |
| Wig | C3 |
| Wine Bottle | H6 |
| Wine Glass | H7 |
| Wrench | D6 |
Ep3 Cathedral
| | |
| --- | --- |
| Anchor | D5 |
| Arrow | A2 |
| Bag of Money | C7 |
| Bagpipe | F7 |
| Basket of Apples | D7 |
| Bat | A1 |
| Books | E6 |
| Boot | E7 |
| Bow | B7 |
| Bowling Ball | C6 |
| Bust | B5 |
| Cage | G3 |
| Cane | B6 |
| Car | H6 |
| Carpet | F7 |
| Cat | C6 |
| Chain | G3 |
| Clarinet | F6 |
| Clothespin | B1 |
| Clown | D6 |
| Clown | D6 |
| Coat Hanger | E3 |
| Crayon | H6 |
| Dartboard | C7 |
| Dog | B5 |
| Eagle | D1 |
| Earring | B7 |
| Envelope | E4 |
| Fire Extinguisher | D7 |
| Fireworks | F2 |
| Fork | D7 |
| Frog | B6 |
| Fruit Baskets | C3 |
| Gate | E5 |
| Goggle | G5 |
| Gramophone | E7 |
| Handprint | E6 |
| Harp | F6 |
| Ivy | H3 |
| Kegs | G7 |
| Key Hole | C5 |
| Keyboard | G6 |
| Kite | D2 |
| Ladder | C5 |
| Lamp | H3 |
| Lizard | A5 |
| Maple Leaf | G6 |
| Monkey | B2 |
| Music Stand | F6 |
| Paint Brushes | D7 |
| Piggy Bank | B4 |
| Propeller | G1 |
| Rosary | H5 |
| Scroll | E6 |
| Skating Statue | C1 |
| Skull | E5 |
| Snake | H2 |
| Sphinx | G3 |
| Star | D5 |
| Straw Hat | C7 |
| Street Sign | H5 |
| Sunflower | B3 |
| Sword | E2 |
| Tombstone | F3 |
| Trident | E3 |
| Umbrella | H4 |
| Vase | G7 |
| Wooden Door | D4 |
| Zodiac | E3 |
Ep3 Cigar Bar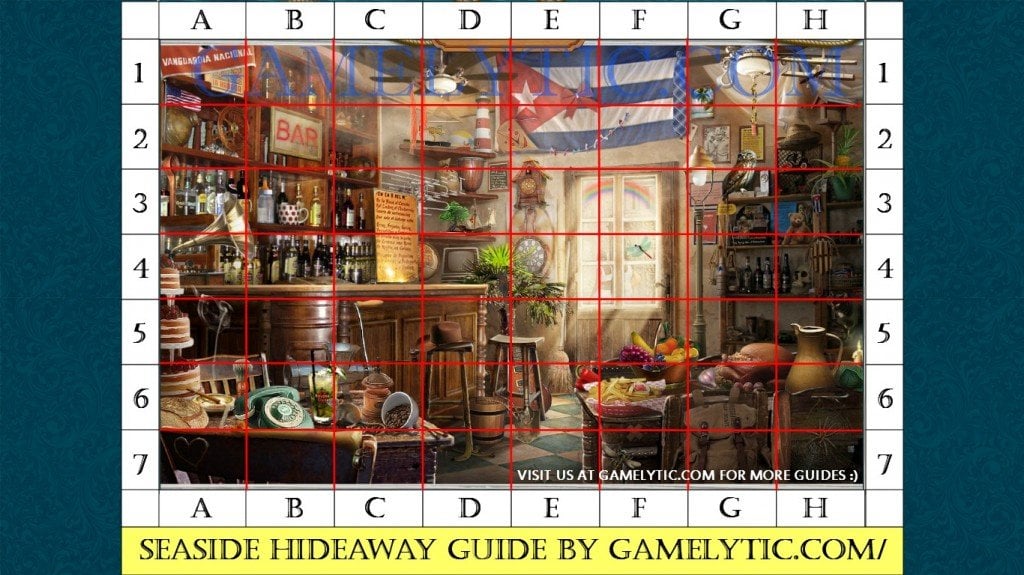 | | |
| --- | --- |
| Airplane | H1 |
| American Flag | A1 |
| Antenna | D3 |
| Baby Bottle | B3 |
| Ball | D2 |
| Banana | F5 |
| Banana Peel | D7 |
| Bandage | F7 |
| Bar Sign | B2 |
| Beetle | C7 |
| Boat | D3 |
| Bonsai | D3 |
| Bow | E1 |
| Bucket | D6 |
| Cabbage | H6 |
| Cat | H5 |
| Ceiling Fan | D1 |
| Cigarette | A6 |
| Clothes Hanger | D2 |
| Computer | D4 |
| Dartboard | E4 |
| Dragonfly | F4 |
| Drum | D3 |
| Fedora | H2 |
| Fishing Rod | D2 |
| Flute | B5 |
| Fly Paper | G2 |
| French Bread | A6 |
| Globe | D4 |
| Gramophone | A4 |
| Heart | A7 |
| Hook | G1 |
| Kite | E2 |
| Lamp | G3 |
| Lighthouse | D2 |
| Matches | D7 |
| Meat Grinder | C5 |
| Mouse | C6 |
| Mug | B3 |
| Pepper Grinder | C6 |
| Pineapple | H2 |
| Pitcher | H5 |
| Rainbow | F3 |
| Rucksack | G6 |
| Sack | D3 |
| Shave Brush | A6 |
| Ship | D3 |
| Shovel | E6 |
| Skull | H4 |
| Spiderweb | H6 |
| Telephone | B6 |
| Tie | F1 |
| Turkey | G5 |
| Umbrella | C6 |
| Wasp | F7 |
| Wheel | A2 |
| Windchime | H4 |
Ep3 Castillo
| | |
| --- | --- |
| Anchor | F7 |
| Antenna | A1 |
| Antler | A4 |
| Ball | F4 |
| Balloons | G3 |
| Barrel | C5 |
| Bell | C2 |
| Bird | F4 |
| Cannon Ball | E5 |
| Cat | D5 |
| Chainsaw | C6 |
| Chair | G6 |
| Chameleon | H1 |
| Chess Clock | H6 |
| Chess Piece | G6 |
| Chimney | B1 |
| Cow | B5 |
| Crown | C1 |
| Fish Basket | G7 |
| Fishing Rod | G5 |
| Grapes | C7 |
| High Heels | C7 |
| Hot Air Balloon | G1 |
| Keepnet | H3 |
| Ladder | C4 |
| Ladybug | H5 |
| Lamp | G3 |
| Life Preserver | F6 |
| Lion | D4 |
| Map | B4 |
| Motorcycle | C5 |
| Number 2 | B2 |
| Paper Fan | H7 |
| Parachute | E3 |
| Puzzle Piece | C3 |
| Radio | C5 |
| Rooster | E5 |
| Rope | E5 |
| Sack | C7 |
| Scaffold | D4 |
| Scales | D6 |
| Sea Star | E7 |
| Snail | D6 |
| Snake | H4 |
| Spool | A7 |
| Tambourine | D5 |
| Television | E4 |
| Tentacle | G5 |
| Treasure | F5 |
| Trident | D2 |
| Umbrella | G4 |
Ep4 Train Depo
| | |
| --- | --- |
| Airplane | H2 |
| Bell | C3 |
| Birds | G3 |
| Bolt Latch | B2 |
| Busker Hat | G6 |
| Can | D7 |
| Carabiner | H3 |
| Cartoon Crab | D4 |
| Change | F6 |
| Cigarette Butt | E7 |
| Clothes Hanger | H3 |
| Coal Bin | E5 |
| Coffee Cup | A4 |
| Dice | D7 |
| Door Knob | B5 |
| Exclamation | D3 |
| Flower Bouquet | G6 |
| Gear | D1 |
| Handkerchief | E6 |
| I Heart NY | H6 |
| Ladder | E4 |
| Lantern | B1 |
| Light Bulb | A2 |
| Lighthouse | C4 |
| Luggage Tag | H5 |
| Mail Bag | C6 |
| Mail Slot | A7 |
| Matches | E7 |
| Microphone | A4 |
| Pencil | E7 |
| Pigeon | F6 |
| Rat | G7 |
| Restroom Sign | C3 |
| Rope | E1 |
| Security Camera | D2 |
| Spring | D2 |
| Steeple | H2 |
| Thermometer | C2 |
| Ticket Punch | F7 |
| Token | G7 |
| Toolkit | E6 |
| Train Ticket | H7 |
| Umbrella | H6 |
| Violin | G6 |
| Wrench | E6 |
| Zipper | G5 (on the luggage behind the grid line) |
Ep4 Main Street
| | |
| --- | --- |
| Battleship | F2 |
| Black Bird | C1 |
| Bluejay | A5 |
| Bubbles | G2 |
| Bunny | E6 |
| Buoy | F6 |
| Camel | B1 |
| Champagne | F4 |
| Chicken | A3 |
| Crew Team | G4 |
| Disco Ball | F3 |
| Dove | H4 |
| Duckling | G7 |
| Fish | F2 |
| Fishing Bobber | H6 |
| Flashlight | H4 |
| Fork | A6 |
| Frog | A5 |
| Hawk | D5 |
| Heart | D2 (Hint: the cloud) |
| Hockey Stick | A2 |
| Lantern | B5 |
| Life Saver | H5 |
| Light Post | C3 |
| Lilac | C5 |
| Match | F4 |
| Number Three | B4 |
| Paper Boat | H4 |
| Pineapple | F4 |
| Plate | F4 |
| Rose | B4 |
| Silver Dollar | F7 |
| Step Stool | A7 |
| Strawberries | A4 |
| Sunflower | A4 |
| Walkie Talkie | E3 |
| Windmill | H2 |
Ep4 Antique Shop
| | |
| --- | --- |
| Abacus | B6 |
| Anchor | D5 |
| Arrow Head | B7 |
| Art Dummy | H6 |
| Axe | H3 |
| Bagpipes | G5 |
| Bear Head | G3 |
| Bonsai Tree | G4 |
| Bust | A4 |
| Butterflies | H4 |
| Calendar | D5 |
| Calipers | B7 |
| Camera | F6 |
| Cane | H5 |
| Cat | G7 |
| Clock | C4 |
| Cougar | E2 |
| Deer | D2 |
| Desk Lamp | D5 |
| Dino Print | H3 |
| Dinosaur Skull | F5 |
| Diving Helmet | E4 |
| Dodo | H4 |
| Eyeglasses | E7 |
| Fish Fossil | H2 |
| Glider | G1 |
| Hat | E6 |
| Hawk | B3 |
| Hole Punch | B6 |
| Hourglass | B7 |
| Inkwell | C6 |
| Kachina Doll | G4 |
| Magnifying Glass | D6 |
| Mammoth Tusk | F3 |
| Mayan Mask | D4 |
| Medusa | G2 |
| Microscope | E5 |
| Ming Vase | H4 |
| Musket | H3 |
| Name Plate | D7 |
| Noh Mask | C4 |
| Owl | E5 |
| Paper Plane | G6 |
| Pipe | A7 |
| Pocketwatch | D7 |
| Pyramid | H5 |
| Rhino | C2 |
| Sabretooth Skull | D6 |
| Samurai Sword | C2 |
| Sarcophagus | G5 |
| Scrimshaw | E6 |
| Shield | D2 |
| Solar System | F2 |
| Spartan Helmet | A3 |
| Specimen Tag | A7 |
| Stapler | C6 |
| Tape Recorder | C7 |
| Tea Cup | D6 |
| Telephone | C6 |
| Telescope | D5 |
| Thumbtack | B5 |
| Uniform | A5 |
| Violin | F5 |
| Whip | H6 |
| Zodiac | C3 |
Ep4 Malt Shop
| | |
| --- | --- |
| Balloon | H1 |
| Banana Split | D4 |
| Bowling Bag | E4 |
| Bride And Groom | B6 |
| Brownie | A5 |
| Burger | F7 |
| Candy Lips | A2 |
| Candy Sign | B1 |
| Carved Initials | C7 |
| Cinnamon Bun | B5 |
| Club Sandwich | F6 |
| Cupcake | B6 |
| Fan | F1 |
| Five Dollars | E6 |
| French Fries | E7 |
| Frosted Cookie | A5 |
| Fuzzy Dice | D4 |
| Gas Pump | G3 |
| Glasses | H7 |
| Ice Cream Scoop | B3 |
| Ladder | G3 |
| Ladybug | C7 |
| Light Switch | H3 |
| Lollipop | B3 |
| Menu | H7 |
| Music Note | G3 |
| Onion Ring | G7 |
| Open Sign | H3 |
| Peppermints | D7 |
| Poodle Skirt | G2 |
| Receipt | E6 |
| Record | F2 |
| Restroom Sign | E2 |
| Rocket | G2 |
| Root Beer | G6 |
| Salt And Pepper | E4 |
| Scarf | G5 |
| Seltzer Bottle | C3 |
| Smoke Detector | H1 |
| Snow Cone | C3 |
| Soda | D4 |
| Soda Jerk Hat | D3 |
| Tip Jar | F4 |
| Toothpick | H6 |
| Toy Car | B2 |
| Trophy | A3 |
| Yo Yo | H6 |